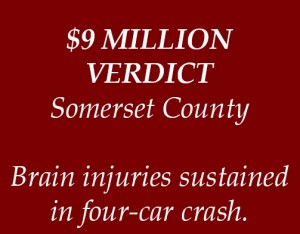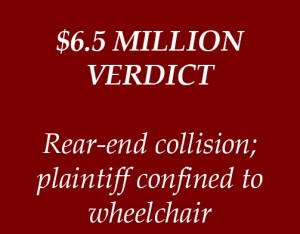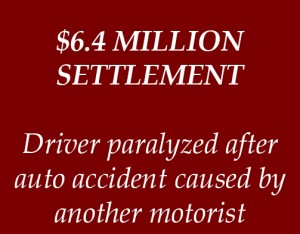 Automobile accidents are traumatizing. Often caused by an inattentive or impaired driver, accidents may have other contributing factors or parties as well, such as a defective vehicle, a misplaced sign, or a doctor who committed malpractice on the accident victim. The auto accident attorneys at Gill & Chamas act as "detectives," examining every aspect of your collision and uncovering all responsible parties.
Gill & Chamas Awards for Automobile Accidents in NJ:
Somerset County Jury Awards $9 Million in Suit Over Brain Injuries in Four-Car Crash
$6.5 Million Verdict for Rear End Collision Leaving Plaintiff Confined to Wheelchair
Paraplegic Settles Claim Against Driver for $6.4 Million
$3.15 Million for plaintiff's father was unable to control car due to multiple sclerosis.
$2.7 Million for auto collision as plaintiff attempted to make left turn
$2.5 Million for a woman that suffered injuries in a traffic accident when a van rear-ended her minivan.
Please visit our verdicts & settlements page to view more results by the firm.
Gill & Chamas has represented clients who have been seriously injured in automobile accidents on the state roads and highways extending from the New Jersey Turnpike to the Garden State Parkway.
Most recent settlement on the NJ Turnpike = $700,000 – A driver who was rear-ended on the NJ Turnpike suffered back injuries.
Team Up With an NJ Auto Accident Attorney
Insurance companies may want to settle your matter quickly. While you may be tempted to accept their initial offer and move on with your life, you'd be wise to consult with an attorney before signing on the dotted line. At Gill & Chamas, we act as your spokesperson and advocate, making sure your rights are fully protected after a car accident. Remember, the insurance company is looking out for itself and their stockholders—we look out for you and your family.
We're on the Case While You Recover
You may not only be suffering a serious injury after your accident, but you are likely feeling rattled and out of sorts. If you've lost a loved one, you are shocked and grieving. In either case, your decision-making abilities may be clouded. We are here to help.
While you tend to important personal matters, we'll oversee the legal aspects of your case. First, we'll scrutinize the scene of the accident with engineers and accident reconstructionists, who will help us tell your story in a factual and compelling manner. Once we've gathered enough information, we can discern whether the accident was caused by a negligent driver, a product defect, or by some other factor.
Moving forward, we'll decide on the best course of action for your case, whether through settlement or litigation. Our sole mission is to get you the compensation you deserve.
If you or a family member has suffered a serious personal injury, make sure you get the representation you deserve. Call our office today at 732.324.7600, or click here to contact us immediately.
Car Accidents with Injuries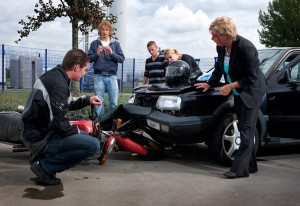 In 2012 alone, more than 63,000 people were injured in NJ car accidents according to the NJ Department of Transportation. These are alarming numbers and hint at the high volume of auto collision cases making their way through the courts. Auto accidents, of course, come in many forms, and factors ranging from human error to manufacturer negligence can play a role. With so many cases in the system, your choice of an NJ Car Accident Lawyer is an important one. Our team of personal injury lawyers is seasoned and dedicated to getting our auto accident victims the damages they deserve.
What to Do if You Have Suffered An Auto Accident Injury in NJ
Your well-being and safety should take top priority when an accident has resulted in injuries. If you or a loved one has been injured in an auto crash:
Call 911 and take steps to ensure your own safety and that of others
Stay on the scene and cooperate with the authorities
Obtain a Car Accident Lawyer in NJ as soon as possible
Protecting Your Rights after a Car Accident
From losing wages to seeking a new normal after serious injuries occur, your rights must be protected after an auto accident. The New Jersey auto collision lawyers at Gill & Chamas have a track record for success in auto injury cases and are ready to use their experience to your benefit.
Call our office today at 732.324.7600, or click here to contact us immediately.
Car Accident Due To Negligence
The CDC reports that distracted-driving accident cases are on the upswing, fatal and otherwise. In the age of drive-and-text and constant distraction, auto-collision cases can be complicated – and at times, manufacturer negligence comes into play as well. If you have suffered due to someone else's negligence, it is important to understand both precedent and the law. The NJ Auto Collision Lawyers at Gill & Chamas are experienced, dedicated, and prepared to assist you in picking up the pieces.
What to Do after an NJ Car Accident
According to the NTSA's distraction.gov website, an accident is 23 times more likely when one is texting and driving. This, of course, is just one form of driver distraction, and every accident is unique. If you have been in an accident:
Take steps to put yourself in the safest place possible and call 911
Cooperate with the police and other authorities who arrive on the scene
Search for a skilled New Jersey Car Accident Lawyer
Protecting Your Rights When You Are Impacted by Driver Negligence in NJ
Our personal injury attorneys have defended victims of negligent driving for decades, and are prepared to put the experience of our NJ Car Accident Lawyers to work. While driver negligence cases are growing ever more complex, results are about uncovering the truth and holding those responsible accountable for their actions. Our ultimate goal is to assist you in returning your focus to recovery in the face of injury, rising medical expenses, or in the worst cases, wrongful death.
Car Accidents Involving Property Damage
The effects of an auto collision are not limited to car damage and personal injury. Often, property damage results as well. Property damage claims cover your car and other items affected as a result of an auto accident. These cases can be complicated, requiring smart decisions about insurance, deductibles and other factors. In cases of serious property damage, you may want to elevate your case in court with the assistance of an experienced NJ Car Accident Lawyer.
What to Do When A Car Accident Causes Property Damage
After any accident, your first priority should be to ensure the safety of yourself and any loved ones who are involved. With that handled, these cases often center on documentation:
Get yourself and loved ones to a safe location and call 911
Work with the officials who arrive on the scene
Attempt to document the damage to the extent possible
Reach out to a property damage lawyer for Guidance
Experienced Car Accident & Property Damage Lawyer
Before you get your insurance company involved in a property damage claim, consult with a car accident and property damage lawyer to be sure you understand your rights. It is common for a single accident to result in both personal injury and property damage, and we have nearly 30 decades of experience organizing complicated auto accident cases for court. From assessing the value of your property to helping you manage day-to-day during the recovery process, we are committed to getting results.
Call our office today at 732.324.7600, or click here to contact us immediately.
Fatal Car Accidents
The CDC states that auto accidents are the leading cause of death for Americans ages 5 to 34. This situation is so serious that the UN General Assembly has proclaimed 2011 to 2020 to be the "Decade of Action for Road Safety." Annual NJ costs from fatal accidents are estimated to be roughly $650 million. The bulk of those numbers involve wages lost as a result of an accident. If you have lost a loved one in an auto accident, the NJ Auto Accident Legal Team at Gill & Chamas can help.
Dedicated Legal Representation after Fatal Accidents in New Jersey
There are few legal cases so emotionally charged as a fatal auto accident, and you need to be able to rely on your legal team for clear-eyed insight. Our personal injury lawyers have been successful in arguing for damages in fatal auto accident cases for nearly 30 years, and we are here and ready to assist – from seeking recovery for lost wages to covering other costs associated with the accident.
Call our office today at 732.324.7600, or click here to contact us immediately.
Hit-and-Run Car Accident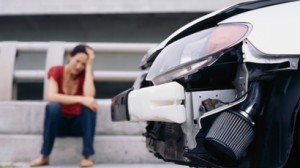 It is difficult to make sense of things after a hit-and-run accident, the nuances of which often create additional suffering and challenges. We know you have many questions, and the NJ Car Accident Lawyers at Gill & Chamas make it our mission to drive the right legal outcomes for our clients. The state of NJ defines leaving the scene of an accident as a punishable crime, especially if injuries and fatalities occur. If you have been a victim of a hit-and-run, we are here to make your case in court.
What to Do After a Hit-and-Run in NJ
Auto accidents are inherently disorienting, and additional confusion arises when one or more parties leave the scene. At the time of an accident, we urge you to make your own safety a priority:
Contact 911 and take any possible steps to protect yourself
Cooperate with the legal authorities who arrive to document the case
Reach out to an Auto Accident Lawyer with experience in hit-and-run-cases
Crafting Your Case with Savvy Legal Representation
Those who flee the scene of an accident may be subject to severe penalties. When the perpetrators are identified, it can require eyewitness testimony and reports from detectives obtained to investigate the case. The personal injury attorneys at Gill & Chamas have protected the rights of numerous hit-and-run accident victims. From injuries and fatalities suffered by pedestrians to vehicular cases, the one constant is the unwavering dedication of our NJ Car Accident Attorneys, who sift through all the facts to make a strong case on your behalf.
Call our office today at 732.324.7600, or click here to contact us immediately.
Rear-End Car Accidents
A rear-end car accident seems like it came from nowhere, offering little warning or time to react. Unpredictable in nature, rear-end accidents can also cause serious injuries, from whiplash in up to 20% of cases to fractures or wrongful death. Along with those statistics on whiplash, the National Safety Council reports that there are more than 2.5 million rear-end collisions in the U.S. annually. If you are among them, retain an experienced Car Accident Attorney who can help you seek damages.
What to Do if You Have Been Rear Ended
In the age of the cell phone, distracted driving is one of the fastest-growing factors in causing rear-end collisions. If you have been rear-ended:
Get yourself to a safe place and call 911
Follow the instructions of police and other officials on the scene
Obtain a skilled personal injury lawyer
NJ Legal Counsel by Your Side
Personal injury and vehicle damage are common in rear-end collisions, leaving victims with multiple issues to manage at once. Know that you're not alone. The Car Accident Attorneys at Gill & Chamas understand what the courts require, and we will scan your case to uncover all of the facts. If you have been rear-ended, the NJ Car Accident Lawyers at Gill & Chamas bring together adept insight, clear documentation, and dedicated counsel to help you seek the recovery you deserve.
Call our office today at 732.324.7600, or click here to contact us immediately.
Learn more about our approach, with no fees required unless a settlement is achieved: