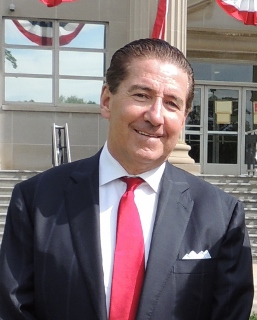 A passenger paralyzed in a car accident agreed to settle her suit against the driver for $6.4 million. Hunterdon County Superior Court Judge Edmund Bernhard, who helped the parties reach the agreement, placed the settlement on the record.
The plaintiff from was a passenger in the car accident. Driving on Welsh road in nearby Tewksbury, the car became airborne, struck and severed a telephone pole, broke through a fence and landed upside down.
The driver said he probably lost control while reacting to a deer he spotted alongside the road. But Raymond Gill, the auto accident attorney who represents the plaintiff, says that the driver had a blood-alcohol level of just under .09 percent, and was driving faster than 60 miles per hour on the rural road. Two independent eyewitnesses said he was driving recklessly, says Gill, a partner with Woodbridge's Gill & Chamas. A DWI summons issued at the scene was voluntarily dismissed for lack of evidence.
According to Gill, the plaintiff was diagnosed with an American Spinal Injury Association Class A injury, where the spinal cord is severed or completely cut. At the University of Medicine and Dentristy, neurosurgeon Robert Heary performed an anterior cervical discectomy with iliac bone graft and instrumentation from C-6 through C-7, using anterior screws and plates for stabilization.
The plaintiff, a former equestrian and part-time realtor, remains paralyzed from the waist down and partially paralyzed above the waist, with some movement of her upper extremities and hands.