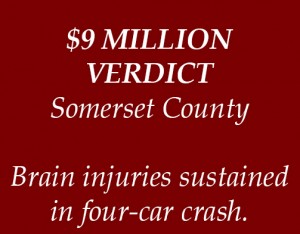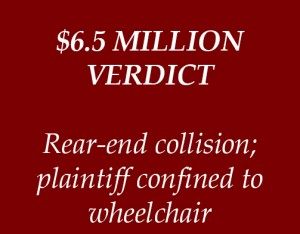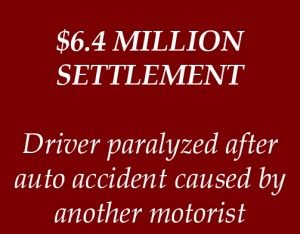 Automobile accidents are traumatizing. Often caused by an inattentive or impaired driver, accidents may have other contributing factors or parties as well, such as a defective vehicle, a misplaced sign, or a doctor who committed malpractice on the accident victim. The auto accident attorneys at Gill & Chamas act as "detectives," examining every aspect of your collision and uncovering all responsible parties.
Gill & Chamas Awards for Automobile Accidents in NJ:
Somerset County Jury Awards $9 Million in Suit Over Brain Injuries in Four-Car Crash
$6.5 Million Verdict for Rear End Collision Leaving Plaintiff Confined to Wheelchair
Paraplegic Settles Claim Against Driver for $6.4 Million
$3.15 Million for plaintiff's father was unable to control car due to multiple sclerosis.
$2.7 Million for auto collision as plaintiff attempted to make left turn
$2.5 Million for a woman that suffered injuries in a traffic accident when a van rear-ended her minivan.
Please visit our verdicts & settlements page to view more results by the firm.
Gill & Chamas has represented clients who have been seriously injured in automobile accidents on the state roads and highways extending from the New Jersey Turnpike to the Garden State Parkway.
Most recent settlement on the NJ Turnpike = $700,000 – A driver who was rear-ended on the NJ Turnpike suffered back injuries.
Team Up With a NJ Auto Accident Attorney
Insurance companies may want to settle your matter quickly. While you may be tempted to accept their initial offer and move on with your life, you'd be wise to consult with an attorney before signing on the dotted line. At Gill & Chamas, we act as your spokesperson and advocate, making sure your rights are fully protected after a car accident. Remember, the insurance company is looking out for itself and their stockholders—we look out for you and your family.
We're on the Case While You Recover
You may not only be suffering a serious injury after your accident, but you are likely feeling rattled and out of sorts. If you've lost a loved one, you are shocked and grieving. In either case, your decision-making abilities may be clouded. We are here to help.
While you tend to important personal matters, we'll oversee the legal aspects of your case. First, we'll scrutinize the scene of the accident with engineers and accident reconstructionists, who will help us tell your story in a factual and compelling manner. Once we've gathered enough information, we can discern whether the accident was caused by a negligent driver, a product defect, or by some other factor.
Moving forward, we'll decide on the best course of action for your case, whether through settlement or litigation. Our sole mission is to get you the compensation you deserve.
If you or a family member has suffered a serious personal injury, make sure you get the representation you deserve. Call our office today at 732.324.7600, or click here to contact us immediately.
Learn more about our approach, with no fees required unless a settlement is achieved: