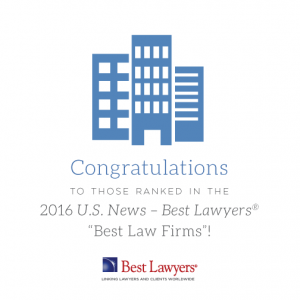 Gill & Chamas was once again ranked in the 2016 U.S. News Best Lawyers "Best Law Firms" list. The rankings were published in early November 2015. Raymond Gill & Peter Chamas were named as Best Lawyers earlier this year.
Methodology for Inclusion in the Best Law Firms List
For the 2016 "Best Law Firms" list, the methodology for the initiative remained the same as in the previous five years.

Clients were asked to provide feedback on firm practice groups, addressing expertise, responsiveness, understanding of a business and its needs, cost-effectiveness, civility, and whether they would refer another client to the firm. Clients also had the option to write in the names of law firms they've worked with on other matters and within practice areas beyond those they were asked to comment on by the submitting firm. Some clients chose to write a comment about their experience with the law firm. These comments are for reference only and were not used as data points in the formal evaluation process.

Lawyers also voted on expertise, responsiveness, integrity, cost-effectiveness, whether they would refer a matter to a firm, and whether they consider a firm a worthy competitor. We asked this group to vote on law firms that have a preeminent national presence within specified legal practice area(s) they know well. For the third year, a Law Firm Leaders Survey was implemented to provide personal insight on the legal landscape surrounding the nationally ranked practice areas. In addition to information from these surveys, the rankings incorporate the 6.7 million evaluations of 55,041 individual leading lawyers collected by Best Lawyers in its most recent annual survey.

In addition to lawyer and client feedback, law firms were asked to provide us with general demographic and background information on the law firm and attorneys, and other data that speaks to the strengths of a law firm's practice areas.