Newborn Screening Programs
The nation's newborn screening programs depend on speed and science to save babies from rare diseases. The problem lies in the thousands of hospitals that fall short of these expectations every year. The deadly delays are ignored and failures are hidden the public eye, causing babies and their families to suffer. These delays at hospitals across the country undermine newborn screening programs, putting babies at risk of disability and death.
"Nearly every baby born in the United States has blood collected within a day or two of birth to be screened for dozens of genetic disorders. The entire premise of newborn screening is to detect disorders quickly so babies can be treated early, averting death and preventing or limiting brain damage, disability and a lifetime of costly medical care.

Yet one of newborn screening's most important metrics — speed — is ignored for tens of thousands of babies' tests each year, a Milwaukee Journal Sentinel analysis of nearly 3 million screening tests shows."
– Ellen Gabler of the Milwaukee Journal Sentinel discusses more about these deadly delays in her article
What is Newborn Screening?
Newborn screening is a state public health service that reaches each of the nearly 4 million babies born in the United States each year. It ensures that all babies are screened for certain serious conditions at birth, and for those babies with the conditions, it allows doctors to start treatment before some of the harmful effects happen.
Newborn screening is performed soon after the birth of your baby, and in most cases, while you are still in the hospital. All it takes is a few drops of blood and a simple hearing test. Learn more about the testing process in the What To Expect section.
The blood test is generally performed when a baby is 24 to 48 hours old. This timing is important because certain conditions may go undetected if the blood sample is drawn before 24 hours of age.
Newborn screening does not confirm a baby has a condition. If a positive screen is detected, parents will be notified immediately and follow-up testing will be done.
Every baby born in the United States will be screened unless a parent decides to opt out for religious reasons.
*Information courtesy of Baby's First Test.
To learn more about this information, please visit the link here from the Journal Sentinel.
Newborn Screening Lawsuits in NJ
$4.125 Million – Delayed Diagnosis of Newborn: Peter Chamas of Gill & Chamas, LLC represented the newborn's family in the following case. According to Chamas, state law requires hospitals to send a blood sample to the state within 48 hours of birth to test the baby for genetic defects and the state is supposed to get back in two weeks with the results. This did not happen to the newborn in this case. The hospital in Belleville, NJ claimed it took the blood and sent it to the Department of Health and Senior Services, but the department claimed it never received the sample. The newborn was not diagnosed until about one year later and it delayed the treatment of replacement thyroid hormone resulting in permanent cognitive and developmental defects.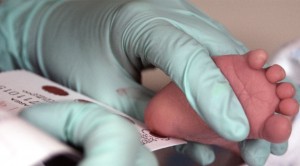 If you are concerned about a newborn screening that may have caused personal injuries to your infant, our NJ medical malpractice attorneys can analyze your situation and advise you on your legal rights. Call our office today at 732.324.7600, or click here to contact us immediately.